Responsible Investment and Climate Change
Responsible Investment
It has long been Frontier's belief that the effective consideration and management of environmental, social and governance (ESG) factors reinforces the sustainability of long-term investment performance. We therefore actively incorporate responsible investment into our investment research, manager research and client advisory services.
Frontier's Responsible Investment Policy is available here.
Responsible Investment Services
As each client's responsible investment needs are unique, Frontier's responsible investment service framework is modular, permitting a tailored and flexible solution.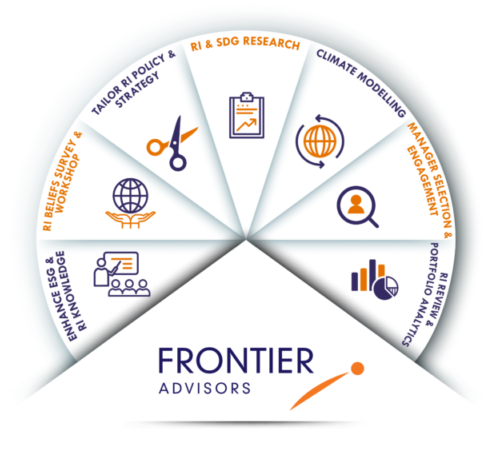 Responsible Investment Group
Frontier's Responsible Investment Group is responsible for thought leadership in, and oversight of Frontier's efforts on responsible investment.  The Group includes senior representatives from Frontier's consulting, research, investment strategy and governance functions, reflecting the integrated nature of our responsible investment approach. ESG is not an adjunct or afterthought to our traditional consulting business, but a front line consideration.
Climate Change
The systemic impact of climate change means it is a high priority responsible investment issue for long-term investors. Our award-winning portfolio analytics tool, Prism, includes a Climate Change Module which can provide our clients an understanding of the potential impacts of climate change on investment portfolio outcomes under different potential transition scenarios.   
Collective Initiatives
Frontier became an early signatory of the Principles of Responsible Investment (PRI) in October 2006 as a professional service partner.  Frontier has publicly committed to providing, developing and promoting services that support its clients' implementation of the Principles. In accordance with PRI requirements, Frontier reports publicly on its responsible investment activities each year including the disclosure of its PRI Transparency Report (our latest report available here).
Frontier is a signatory to the Paris Pledge for Action which represents a public commitment to support the greenhouse gas reduction objectives of the Paris Agreement. Frontier is also a financial member of the Investor Group on Climate Change, supporting its efforts in helping investors to manage the impacts on their investments of the economic transition arising from climate change.